Auto-discovery of your resources
Group your resources by service

Cloudash automatically loads all supported resources from a CloudFormation stack. You can also create a service by manually picking resources from your account.

Use any deployment tool you want

Full support for AWS CDK, AWS SAM, Serverless Framework or any CloudFormation-compatible framework. If you use Terraform, you can manually pick resources you want to group together.

Zero-configuration

Once you configured aws-cli on your machine no further configuration is needed. Cloudash reads this configuration so you can define a services based on your AWS profile.
Download Free Trial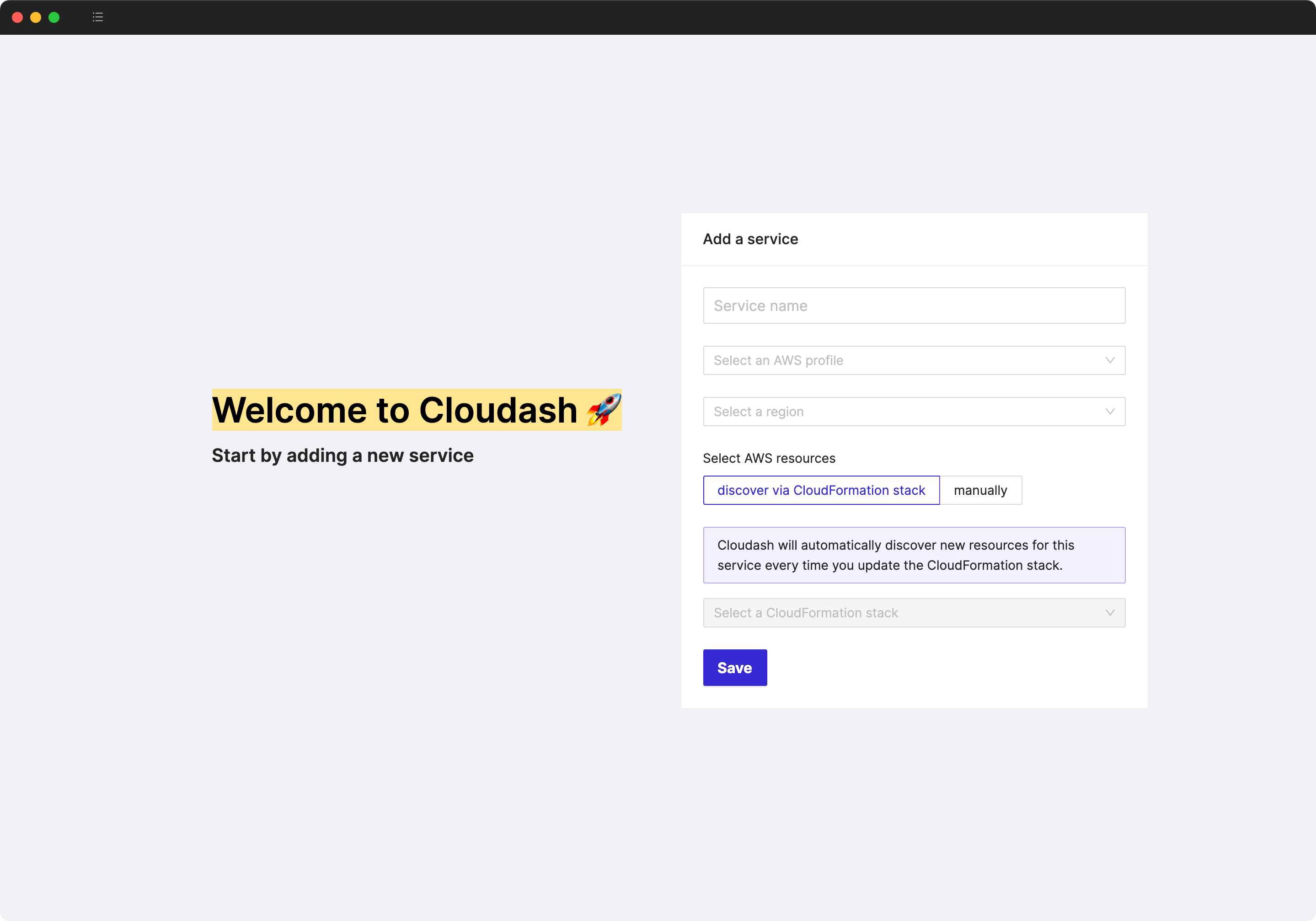 Metrics that matters
Metrics + Logs = 🚀

You can quickly zoom in and zoom out the metrics chart and you will immediately see respective logs. No need to copy and paste timestamps or manually select dates and times.

AWS Lambda logs grouped by invocation

For AWS Lambda, logs are always grouped by invocation. You will not see logs from different invocations between START and REPORT log lines.

Quick access to logs and metrics for API Gateway

Logs for a Lambda function backing an API Gateway endpoint are easily accessible. You don't need to remember the Lambda function name. You can just click on the HTTP method and path pair in the menu.
Download Free Trial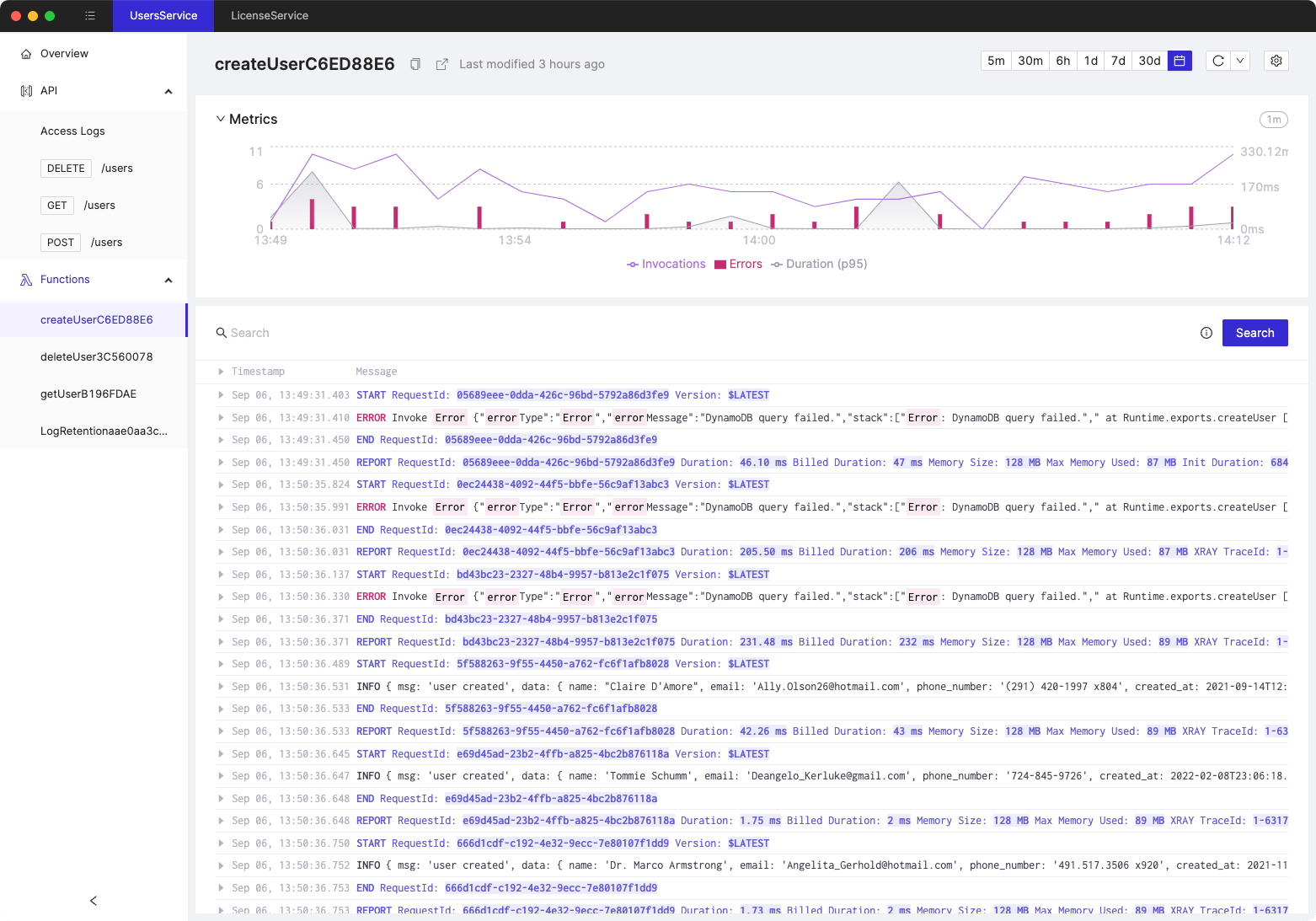 A single pane of glass to your AWS account
See what's important first

No need to manually create custom dashboards. Cloudash automatically shows you the most important metrics for a particular AWS resource or for your entire service.

Full support for AWS SSO and MFA profiles

Cloudash comes with built-in support for AWS SSO and MFA profiles, enabling you to use it for all your projects. Production-grade software, side projects, we can handle it.
Download Free Trial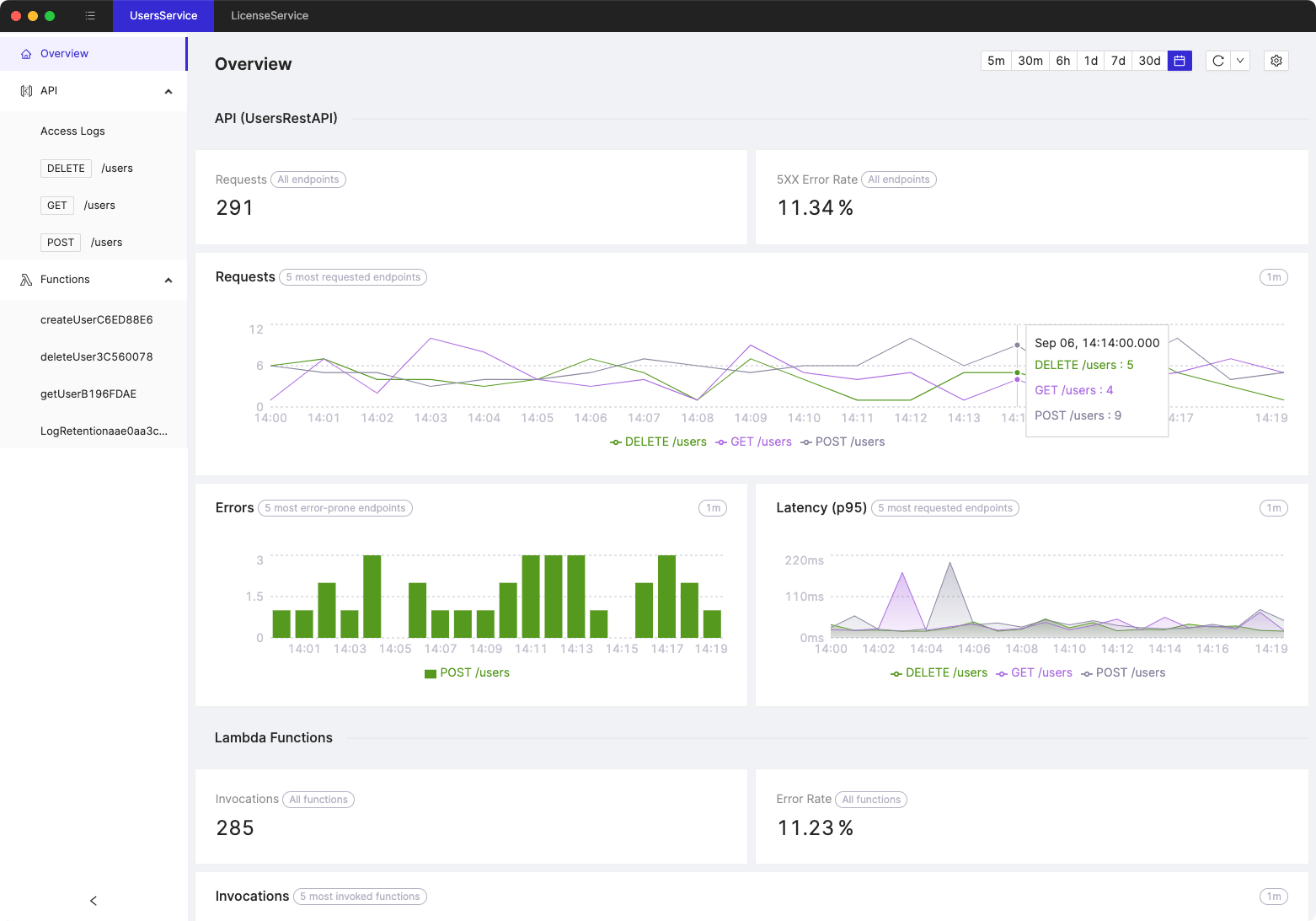 Frequently asked questions
Can't find the answer you're looking for? Reach out to us, we're here for you.
Can I try Cloudash before buying it?

Yes! Cloudash has a free trial for 7 days, you can download it here and give it a shot. We'd love to hear your feedback!

Which deployment framework does Cloudash support?

You can use Cloudash regardless of your deployment tool by manually picking AWS resources. What's more, Cloudash is able to automatically discover resources deployed using any CloudFormation-compatible tool (e.g., AWS CDK, AWS SAM, Serverless Framework) or Terraform.

What happens to my AWS credentials when using Cloudash?

Cloudash does not send (and never will) your credentials anywhere. All API calls necessary for Cloudash to operate are executed locally from your machine.

Is Cloudash going to incur extra costs on my AWS bill?

Cloudash uses Amazon CloudWatch GetMetricData API everytime it loads or refreshes charts. AWS charges $0.01 per 1,000 metrics requested.

Does Cloudash store my production logs and metrics anywhere?

Whatever happens on your machine, stays on your machine. We do not send your data anywhere, nor do we store in on a Cloudash Enterprise server (which we don't have).

Which operating systems are supported by Cloudash?

Cloudash runs on macOS, Windows, and Linux.